Virtual Workplace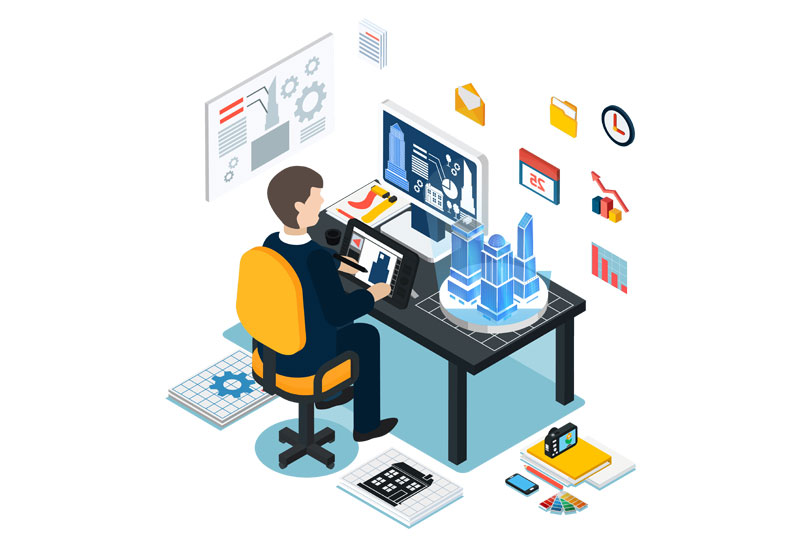 The post-Covid-19 era ushers in new challenges for organizations across the U.S. and worldwide. Literally overnight, home offices, also commonly known as virtual workplaces, became a key part of the corporate IT infrastructure. Although it is unclear whether Covid19 is the signaling of a new age of pandemics, companies must nonetheless be wary of and prepared for a health-related lockdown with advance notice of only a few hours. To add to the challenges, we now know that leveraging a few cloud applications and sporting the coolest gadgets to access data therein is far from what the doctor ordered when it comes to true workplace abstraction. So, what does all this mean when it comes to survival of a business?
Laptops vs Desktops
In case of government-mandated work-from-home orders, companies will favor laptops over desktops even for their non-mobile workforce so workplace migration to and from home will be simpler. While laptops tend to cost more given the same processing power, they provide a level of agility necessary for rapid changes in location.
Home Network Security
What has traditionally been a breeding ground for malware and botnets due to unpatched, store-bought routers and firewalls, only occasionally maintained computers, and other types of cybersecurity black holes will need to become a viable place from which to access corporate data. Indeed, "work-from-home" is a string of words which should frighten any cybersecurity worker or manager. This transformation will be as much a technical revolution as a culture change, with oscillating cost responsibilities among employees, employers, and government.
Mobility Applications
We're talking about proven, professional enterprise-class wares such as SharePoint, OneDrive, and Microsoft Teams, which together, create a location independent virtual office for any organization as long as there is, of course, Internet access. And, while Teams can handle meetings with external users such as clients and vendors, it's good to have ready conferencing tools such as Zoom, GoToMeeting, and Webex.
The remainder of this page addresses cloud-based document sharing, which is a key component of workplace mobility and ultra-sensitive when it comes to governance and cybersecurity.
File Sharing and Storage Solutions
Your business depends on alacritous and accurate processing of documents during your daily workflows. If you're still using paper-based systems, you're adding unnecessary overhead and hassle for your staff and customers. With a digital, cloud or on-premises document storage solution, your team can access repositories from anywhere on any Internet-connected device.
Technical Framework works with organizations to develop a comprehensive digital solution for all document management processes. We play a key role in activities ranging from digitizing existing documents to providing online portals and collaboration tools for you and your customers' convenience.
Document Management Systems
A cloud or on-premises Document Management System (DMS) can enable your company to streamline document processing and workflows. With a DMS, you can establish effective control and oversight for every document used in the company. Solutions include access controls, automated workflows, versioning, and complete audit trails on every file. The latest DMS solutions integrate with mainstream productivity applications to improve the company's efficiency and provide access to a centralized repository of all electronic files.
Microsoft SharePoint Online
SharePoint Online is just one example of a DMS, and provides your organization with a complete Content Management Solution for a broad range of digital information. The platform empowers teams to collaborate, find information easily, and publish rich content in digital format for a variety of audiences. The SharePoint platform goes beyond just managing content, allowing you to build interactive sites and forms that add unprecedented value to your business processes. SharePoint Online is a component of the Microsoft Office 365 suite of cloud-based collaboration tools.
Technical Framework will work with your company to define the infrastructure requirements, establish the work processes, design access models, and develop backup and recovery strategies pertaining to your DMS.
Document and Data Security
It seems that no discussion about data is complete these days without mention of security. Document repositories harbor key information about a company and its clients, making them attractive to hackers. Keeping pace with the cyberthreat landscape is paramount in efforts to exercise due care and diligence. Among sensitive repositories are those used by medical facilities, federal government contractors, and insurance companies.
To keep your documents out of the clutches of bad actors, you'll need to encrypt all information at rest and in transit. With modern encryption algorithms, only authorized personnel will have access to your company's information. Due to the rapid increase in cybercrime, protecting your company's data with not only encryption but also strong passwords and two-factor authentication is vital for business continuity.
Whether you opt to implement a complete on-premises DMS or simply use a cloud storage solution, you'll need to work with a team of information security experts to ensure your data remains protected.
Customer and Employee Portals
All too often, organizations choose to send and receive documents via email, a practice prone to confusion, versioning errors, and security issues. Customer and employee portals, whether proprietary or open-source, are geared to ensure documents are submitted securely, properly audited, and stored in an organized fashion.
Technical Framework is adept in selecting, implementing, and maintaining commercial-off-the-shelf portal systems that match your business requirements and budget.
To find out more about file sharing and storage solutions or to get advice on how to select the best cloud storage vendors, speak with Technical Framework today.