Network Management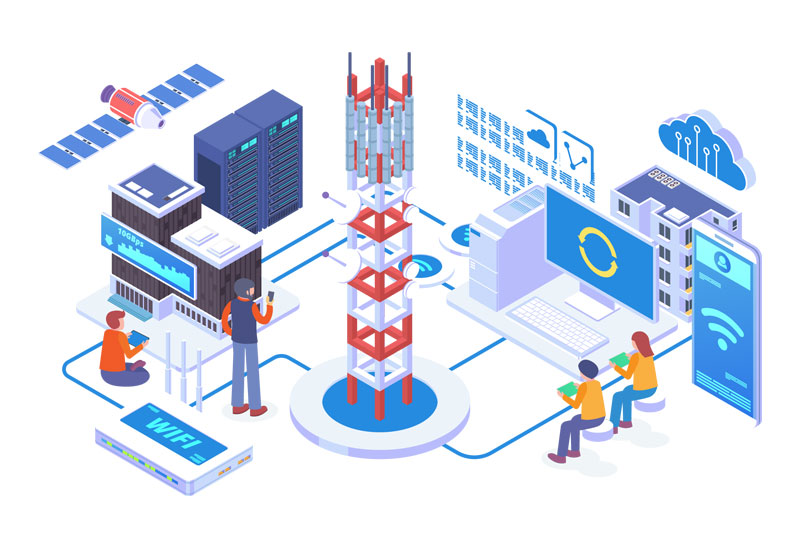 Fort Collins Network Management and Monitoring
Reliable Network Design Specialists including Network Monitoring and Ethernet Switch Management
Technical Framework is a steadfast pillar of knowledge and dependability in the ever changing field of information technology, particularly when it comes to managed network switches and Fort Collins network management. As a leading provider of managed IT services, our exceptional combination of extensive experience, technical know-how, and dedication to innovation places us at the forefront of providing solutions that consistently push businesses toward attaining their IT goals.
Our expertise extends beyond simple networking; we are experts in setting up and maintaining Netgear network switches. These cutting-edge gadgets are a great option for organizations of all sizes because of their reputation for dependability, performance, and rich feature sets. Our knowledgeable team is well-versed in the nuances of these network switches and can make use of their capabilities to enhance the performance and security of your network.
Our steadfast objective to guarantee the network stability, security, and scalability of your company is at the core of everything we do. We are aware that the foundation of any corporate activity in the modern day is an effective and secure network. In order to demonstrate our proficiency in Fort Collins network switch management and network monitoring, we take no short cuts in ensuring that your network is both reliable and strong enough to survive cyber threats.
Additionally, we are aware that every business has different needs and development paths. As a result, we offer specialized network design services that complement your company goals and enable scalability to meet your expanding business needs. Our network designs are dynamic and change along with your company, giving you a solid foundation for growth and success.
To put it briefly, Technical Framework offers more than just IT services. We are your dependable partners, dedicated to empowering your company through superior network management, Fort Collins network monitoring, and the skillful installation of network switches, including Netgear. You can have faith in us to take good care of your network, set it up for long-term stability, enhanced security, and the flexibility to support your company's expansion.
Network monitoring and management proficiency: enhancing business operations
We truly believe that your business network serves as the structural framework that holds all of your operations together harmoniously. We are the most reputable name in Fort Collins network support and network switch management because we recognize how important network health is for any business. Our qualified team is committed to providing top-tier network monitoring and management services.
Our team of skilled professionals is dedicated to guaranteeing the best possible performance of your network infrastructure at all times. We take on the task of protecting your network infrastructure from the frequently undetectable attacks that exist online. We identify and swiftly resolve any emerging issues before they develop into disruptive challenges through ongoing network switch maintenance and proactive management of your complete network, avoiding any potential harm to your business operations.
We use advanced and cutting-edge technological equipment to monitor with the utmost precision. This enables us to precisely monitor the condition, operation, and efficiency of your network infrastructure. Our skilled personnel make use of their in-depth grasp of Fort Collins network monitoring and network switch management, as well as their extensive awareness of industry trends and technical breakthroughs. The combination of cutting-edge equipment and technical know-how enables us to guarantee that your network is constantly in top condition, prepared to support your business objectives and meet your changing needs.
Our network monitoring and maintenance service is a proactive strategy that foresees potential issues and employs proactive techniques to avert them, not merely a reactionary one. To keep up with the quickly evolving technical scene, we are actively involved in monitoring network performance, updating network equipment, proactive network switch management, controlling data traffic, and making the necessary adjustments.
Technical Framework thinks that, in addition to the use of cutting-edge techniques, the human touch plays a crucial part in providing services. Our talented and devoted crew is the foundation of our network monitoring and network maintenance services, and we are proud of them. Our specialists are seasoned professionals with a lot of expertise and a strong dedication to ensuring the efficient operation of your business.
We closely monitor network traffic as part of our network monitoring operations. We are aware of how important efficient data flow is to the success of your company. We can identify any anomalies or possible problems by monitoring the patterns of data flow, and we can then take prompt action to stop network congestion or any other problems that can affect the continuity of your operation.
Additionally, we are aware that neither technology nor your company's needs are constant. In order to maintain the greatest level of network speed and security, we take the initiative to regularly update your network switches and other equipment, integrating the most recent updates and patches. By doing this, we make sure that your network infrastructure is current, dependable, and furnished with the newest technology that supports your company's goals.
In conclusion, Technical Framework's network monitoring and network management services are created to provide you piece of mind by ensuring that your network infrastructure is being monitored and maintained by the best network management experts in Fort Collins. You may concentrate on your primary company operations with our assistance while leaving the challenging tasks of network management and network monitoring to us.
We are the go-to partner for companies searching for reliable network support services because of our unwavering dedication to preserving the health of your network, use of the most cutting-edge tools, and great knowledge in Fort Collins network switch management. Keeping your network in top shape so that it can support smooth and effective business operations is our objective, and we're proud to uphold it.
Leading-edge Network Monitoring and Network Management Services in Fort Collins
Network security has become a top concern in the quick-paced digital world where corporate environments are always changing. With a single goal in mind—to protect your company's data from potential cyber threats—Technical Framework offers extensive network support services like network switch management, network monitoring, and device patching. As a result, we have established ourselves as a leading supplier of network monitoring and network management services in Fort Collins.
We take a proactive rather than a reactive approach to cybersecurity. We believe in preventing security incidents before they happen by taking preventative actions to thwart possible threats. To proactively detect, prevent, and remove attacks, we closely monitor your network and put advanced security protocols in place. Our approach is straightforward: prevention is preferable to treatment, particularly when it comes to network security.
We work hard to stay ahead of the curve as a top provider of network monitoring and network management services in Fort Collins by staying current on the always changing cyber threat scenario. Cyberthreats are constantly evolving and do not stay the same. As a result, security measures that were successful yesterday might not be successful today. We stay up with the most recent developments in cybersecurity to combat these changing threats. In order to protect the security of your network switches, access points, and other network devices, we continually educate ourselves on the latest security threats and develop strong mitigation measures to counter them.
We use extensive security procedures that are based on the most recent developments in cybersecurity. To prevent unauthorized access to your network, we put in place strong firewalls. Our firewalls serve as more than simply border walls; they act as watchful guards, continually monitoring network traffic and stopping any suspicious activity to keep your network safe from online attacks.
We set up secure Virtual Private Networks (VPNs) in addition to firewalls. Your employees can access your company's data securely while on the go thanks to VPNs, which encrypt your data and offer secure access to your network from anywhere in the globe. Secure VPNs provide an additional layer of safety for your network, increasing its resilience to online threats.
Implementing cutting-edge intrusion detection systems is another key component of our Fort Collins network management and support services. These systems continuously scan your network for indications of infiltration or breach and notify us right away if any irregularities are found. As a result, we are able to react quickly to any threats and take prompt action to eliminate them.
Other cutting-edge security procedures that we provide include frequent security audits, patch management, and vulnerability assessments. We are able to find any potential vulnerabilities in your network and implement fixes thanks to routine security assessments. We also make sure that all of your network equipment and software have the most recent security fixes installed because outdated software is sometimes a point of entry for hackers.
In a word, your security is our top priority at Technical Framework. We go above and above to protect your company's data from any dangers as your reliable partner in Fort Collins network monitoring and network management services. We work hard to strengthen your network and build its defenses so that you may concentrate on your main business operations with confidence.
You are selecting a partner by going with Technical Framework who values network security just as much as you do. You can relax knowing that your network is in the safest hands because of our proactive strategy, cutting-edge security methods, and unrelenting commitment to protecting it. Let us take care of your network security so you can focus on expanding your business, which is what you do best.
Strategic Network Design and Network Management Services in Fort Collins
It is impossible to emphasize the value of a strong, dependable, and efficient network infrastructure in today's corporate environment. Modern digital activities are complicated, thus network design and network support services must be approached strategically. At Technical Framework, we are aware of this crucial necessity and provide services that are specially tailored to fit your particular business needs. We take pride in offering solutions that help companies realize their full potential as leaders in Fort Collins network support.
We provide a wide range of network management services, including building a new network infrastructure from scratch as well as updating an existing one for increased performance and scalability. We guarantee that your network design is not just strong and reliable but also future-proof with an unwavering dedication to efficiency. This means that as your company grows, your network will be scalable and built on a solid foundation.
The foundation of our strategy for network design and support is our consistent dedication to comprehending your specific business requirements. We at Technical Framework truly believe that because every business is different, so are its network requirements. Our team makes it a point to become completely engrossed in your company's surroundings, grasping the nuances of your operations and your strategic goals. This makes it possible for us to provide network management and network monitoring solutions that are specifically tailored to meet your requirements.
An extensive meeting to go over your business demands and network requirements kicks off our network design process. We don't follow a one-size-fits-all philosophy; instead, we take the time to comprehend your unique business goals, present network constraints, and long-term expansion ambitions. We are able to develop a network design that is an investment in your future rather than merely a short-term fix thanks to our thorough analysis of your company.
After determining your needs, our knowledgeable staff starts the designing process. They create a network architecture that is effective, scalable, and perfectly aligned with your business objectives by drawing on their vast experience in Fort Collins network support. Every step of the design phase is painstakingly planned and carried out, from selecting the appropriate hardware and software components to picking the most efficient network topology.
After network design, we move on to implementation. Here, our staff carefully installs your new network, minimizing the impact on your regular business activities. We make sure that each component is installed and set up for optimum performance. But that is not where our assistance ends. After deployment, we continue to be there for you, offering support services such as network switch management, network monitoring, and support services to guarantee your network's continued peak performance.
Our support services are thorough and ongoing. We are aware that both the technical environment and your company's needs are always changing. So that your network infrastructure stays in line with your corporate goals and technical changes, we offer ongoing support. We're always there to make sure your network performs at its best, from troubleshooting network issues to carrying out routine maintenance and upgrades on network switches, access points, network firewalls, and other equipment.
In a word, we take a collaborative, customized, and ongoing support approach to network design and network management services. At Technical Framework, we consider ourselves to be your dependable partner in accomplishing your business objectives rather than merely a Fort Collins network management supplier. Our team is committed to helping you every step of the way, from the initial consultation through the final implementation and beyond.
By selecting Technical Framework, you are selecting a partner who is devoted to meeting your network needs and who is aware of them. Through the provision of a strong, effective, and scalable network that supports your operations now and positions you for prospects of the future, our network management and network monitoring services are intended to catapult your company to new heights of success.
Case Study 1: Using Scalable Network Infrastructure to Enable Rapid Growth
Scalability and efficiency frequently turn out to be the success factors in the dynamic business IT environment, particularly for firms that are expanding quickly. Our work with a budding Fort Collins startup, which solidified our position as the industry leaders in Fort Collins network management and network switch maintenance and support, is a shining illustration of this. The case study outlines the events leading up to the transformation of their network architecture with the purpose of fostering and supporting their exponential growth.
The startup was struggling with an outdated network infrastructure that was substantially behind their growing requirements, despite having tremendous promise and being on an aggressive growth trajectory. It had developed into a bottleneck, impeding their productivity and expansion. They were experiencing operational inefficiencies due to a network that wasn't built to expand, and they required a strong, scalable, and effective solution – a comprehensive network redesign.
Technical Framework intervened, bringing to the table our extensive knowledge and skills in network design and Fort Collins network management. Our strategy was built on a knowledge of the startup's particular needs and growth expectations, which allowed us to develop a strategic plan for a network redesign that placed a heavy emphasis on efficiency and scalability.
The use of excellent controlled switches was an essential part of our solution. In order to build a scalable and effective network infrastructure, managed switches are essential. They offer superior control over network traffic, enabling sophisticated data flow management, job prioritization, and improved security features. Utilizing controlled switches proved to be revolutionary for this startup.
These managed network switches were carefully placed throughout their entire network. With the help of these network switches, we were able to actively monitor and control the network traffic, spotting any possible bottlenecks, assuring effective data transmission, and drastically lowering latency. The performance and productivity of their operations could be improved by giving priority to crucial data and applications.
However, our involvement went beyond merely putting in the switches. Our plan also required a strong network design. We made sure that the infrastructure could easily accommodate the startup's expanding needs by building a network architecture that was naturally scalable and effective, giving them a solid platform for growth.
Their network performance was greatly enhanced by the newly constructed network infrastructure. It gave the startup a quicker, more dependable, more scalable network that was well-suited to support their growing activities, promoting rather than impeding their expansion.
We supplied continuing network monitoring and support as part of our dedication to giving Fort Collins network management of the highest caliber. By utilizing the managed network switches' cutting-edge capabilities, we were able to continuously monitor the network's performance, make required corrections, and keep it optimized. Their network's performance and efficiency held steady as their firm expanded, giving them a reliable operating environment.
This project served as proof of our expertise in network design, especially when it comes to building scalable, effective infrastructures that can support and facilitate business growth. It highlighted our capacity for utilizing cutting-edge technology, such as managed switches, to improve network performance and showcased our proficiency in Fort Collins network management and network monitoring.
This case study illustrates how a smart, well-executed network design and the application of cutting-edge technology can greatly contribute to a business's success. By redesigning this Fort Collins startup's network architecture, we not only fixed their immediate problems but also gave them a solid basis to support their continued development and success.
Case Study 2: Increasing Network Security for a Fort Collins-based Business
Breach of cybersecurity can cause a lot of harm to enterprises, including financial losses and harm to their brand. We have helped many local businesses strengthen their network security as a well-known provider of Fort Collins network management services. This case study explains an example of how we strengthened the network security for a local company that had experienced a damaging cybersecurity breach.
An extensive analysis of their current network design was our first assignment. This made it possible for us to locate any potential weak points in their network that could be used by potential attackers as entry points. We implemented cutting-edge security solutions designed to minimize these vulnerabilities and strengthen their network's overall security posture as part of our commitment to offering top-tier Fort Collins network management services.
This change was greatly aided by managed network switches. These sophisticated network switches offer a range of security capabilities, including the capacity to identify and reduce harmful traffic, in addition to simply facilitating data transmission. We were able to provide network monitoring services, as well as effectively manage and safeguard the data flow by implementing managed network switches throughout their network. This gave us granular control over the network traffic.
We could closely monitor network traffic with managed network switches installed, isolating and examining suspicious data packets. The network's security was greatly increased as a result of this feature's exceptional success in seeing possible cyber attacks and preventatively reducing them before they could do any harm.
Our comprehensive security solution included installing strong firewalls in addition to the managed network switches. As the initial line of security against online dangers, these firewalls stopped malicious access to the network. Incoming network traffic was checked, and any potentially malicious data packets were blocked, preventing cyberattacks.
Additionally, we put in place safe Virtual Private Networks (VPNs). VPNs add an additional layer of protection by encrypting the sent data in addition to offering secure remote access to the network. The data would remain unreadable and so useless to the attackers even if it were intercepted during transmission thanks to this measure.
We considerably improved the client's network security posture with our thorough approach. We strengthened their network against future cyber threats by finding weaknesses and implementing cutting-edge security solutions. The client hasn't experienced a single security incident since our intervention, which is a testament to our proficiency in Fort Collins Network management services.
This case study highlights our expertise in providing reliable network management and network monitoring solutions, which is its main takeaway. It demonstrates how we may use cutting-edge technologies, including managed switches, to identify malicious traffic and reduce cybersecurity threats. This project demonstrates how a well-thought-out security strategy can not only address current problems but also give companies a safe, dependable network that positions them for future growth. You have a partner in Technical Framework who is dedicated to defending your company from the ever-changing cyber threat scenario.
Technical Framework: Increasing Your Company's Potential Through Effective Network Management
Our mission at Technical Framework is to empower your business success through a strong, secure, and effective network. Every successful firm relies on a high-performing network, and we are dedicated to making sure that yours is the best. We are the go-to source of managed IT services in Fort Collins and are renowned for providing top-notch Fort Collins network management and support, security services, and managed network switches solutions.
Our experience extends beyond offering simple networking management solutions. Our area of expertise is the installation and administration of Netgear managed network switches. Advanced network switches from Netgear are recognized for their performance, security, and broad feature sets. We can improve your network's overall efficiency and resilience by utilizing our in-depth knowledge of these components, providing a strong foundation for the success of your company.
You will receive much more than just technical support when you choose Technical Framework as your provider of IT services. It entails working together with a group of professionals who genuinely care about the durability, security, and effectiveness of your network. We consider ourselves to be a member of your team that supports its objective and enjoys its successes. Our services are extensive and encompass every facet of networking, from network management and monitoring to network design and maintenance to strengthening network security.
Our Fort Collins network management services are created to keep your network operating at peak performance at all times. We closely monitor your network infrastructure, finding and fixing problems even before they have a chance to interfere with your business operations. Our network design and network support services are tailored to your particular business needs in order to make sure that your network is not only reliable but also expandable and in line with your corporate goals.
Maintaining company continuity and protecting sensitive data require a secure network. With the help of our Fort Collins network management services, we put in place a variety of cutting-edge security measures, such as constructing strong firewalls, deploying secure VPNs, and installing sophisticated intrusion detection systems, to safeguard your network from potential attacks.
We cordially encourage you to discover the Technical Framework distinction. For additional information about our services or to arrange a consultation, contact us. As our partner, you can count on us to deliver dependable, secure, and effective network management solutions that help your company achieve its technological objectives.
At Technical Framework, we are dedicated to providing only the best services since we feel that your network deserves nothing less. After all, a strong and secure network is what gives a business its power, and we are here to make sure that your network is ready to propel your organization ahead. Our goal is for your network to succeed, and we accomplish this by utilizing our unmatched knowledge in managed network switches, notably Netgear's cutting-edge products, as well as our network security services and Fort Collins network management services.