Computer Support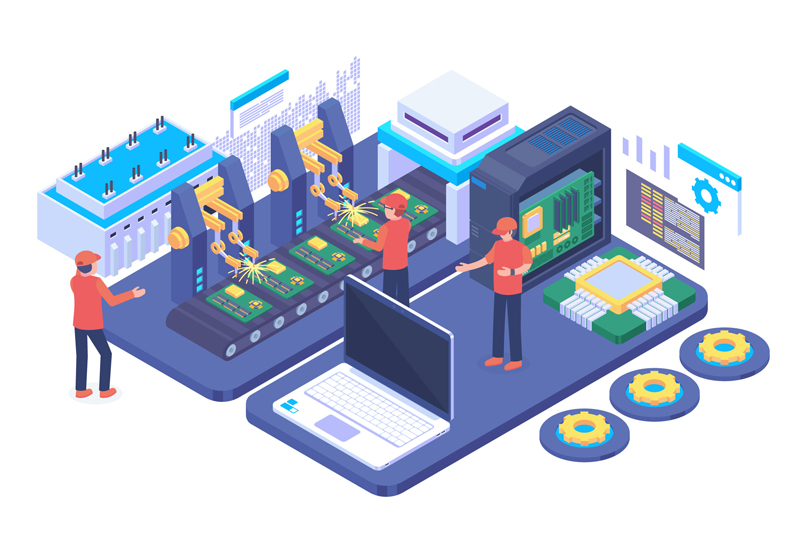 Fort Collins' Computer Support Services by an Expert Computer Technicians Team
The Indispensable Role of Computer Support  and Computer Technician in Today's Digital Landscape
Technology has become an essential part of business operations thanks to the digital age. As a result, the importance of trustworthy and reliable IT systems has never been higher. However, the possibility of technological problems, from minor software defects to significant system failures, comes along with this dependence. Each one can result in major disruptions, lower production, and poor performance for your business. At Technical Framework, we are aware of these difficulties and their possible effects.
We make sure you have robust IT solutions, supporting your business operations against technological setbacks as your go-to Fort Collins computer technician and support company. We make an effort to foresee, stop, and quickly fix any IT problems you might experience. This strong assistance enables your company to fully utilize technology without the risks involved, improving your operational effectiveness and competitive edge.
It can be challenging navigating the complicated IT landscape. Whether you're dealing with a little software bug or more serious network issues, you need a trustworthy partner who can react quickly and efficiently. In response, we are here. We are steadfast in our dedication to giving you the precise computer assistance and services you require, precisely when you need them, thanks to our skilled staff of computer professionals.
You are picking more than simply a service provider when you partner with Technical Framework as your computer technician team and partner for support and services; you are choosing a reliable ally in navigating the digital age. When you have us on your team, you can confidently take on IT difficulties and make sure that technology continues to be a success-enhancing tool rather than a source of disruption.
Who We Are: Computer Support is the Essence of Technical Framework
With a reputation built on dependable service, great quality, and an unrelenting dedication to client satisfaction, Technical Framework has cemented its place as a leader in the field of computer IT support. As a reputable provider of managed IT services, we provide a wide range of solutions aimed at ensuring the smooth operation of your IT infrastructure.
Our staff of computer experts is made up of a vibrant bunch of seasoned professionals, and each one brings a wealth of expertise and in-depth knowledge to the table. We are a cohesive team committed to providing the best IT solutions and first-rate computer support in the Fort Collins region. We are more than just a collection of people.
We offer a wide range of services that include all facets of IT administration and support. Our expertise in network troubleshooting can ensure that your systems stay connected and operate effectively. We execute system updates expertly so you may take advantage of modern technological breakthroughs without the inconveniences.
Software installation is another area in which we excel, ensuring that your software environment is set up and optimized for your company needs. Additionally, we offer reliable data backup solutions that ensure the safety and recoverability of your important company data in case of unforeseen events.
At Technical Framework, we take great pleasure in our expertise, attention to detail, and unmatched market knowledge. Our identity is not entirely derived from our abilities and offerings, though. Above all, it is shaped by our core values, which include a commitment to excellence, a focus on the needs of the customer, and a love of all things technological.
We offer more than simply IT support. We are a trusted name in Fort Collins computer help, a partner to our clients, and a beacon in the rapidly changing world of technology. Our identity is derived from the success of our clients, and we are unwavering in our will to assist, direct, and advance them on their digital path.
What We Do: Redefining Computer Support for Today's Businesses
For modern enterprises, computer assistance serves as a strategic pillar, according to Technical Framework. Taking care of IT issues as they appear is considerably more than just a quick fix. Instead, we see it as a proactive strategy to improve operational effectiveness, optimize your IT infrastructure, and dramatically impact the growth trajectory of your company.
Considering Computer IT Support as a Strategic Tool
Computer IT assistance is frequently viewed as a supporting role that focuses mostly on troubleshooting and fixing issues. But we have a different perspective. As your go-to Fort Collins computer support company, we view technical IT assistance as a strategic tool that can mold the IT environment of your company. Our goal is to use these chances to enhance, optimize, and innovate in addition to finding solutions to problems.
Enhancing IT Infrastructure
We consider a solid and trustworthy IT infrastructure to be the foundation of any flourishing enterprise. Our extensive technical support services are designed to increase the durability and strength of your IT systems. We make an effort to make sure your infrastructure is properly set up, current, and furnished with the tools required to support easy and effective operations.
Streamlining Operations
If left unattended, IT problems can seriously impede your company's operations. Our technical support is proactive, which reduces these interruptions. While identifying underlying problems that can potentially lead to future disruptions, we also strive to quickly remedy current difficulties. This proactive problem-solving approach helps to streamline operations and boost overall efficiency.
Driving Business Growth
We want to help your company flourish by providing devoted computer support services. An effectively managed IT infrastructure may promote innovation, increase productivity, and give businesses the resources they need to expand. By coordinating your IT systems with your business's strategic goals, we want to foster such an atmosphere.
In conclusion, Technical Framework sees itself as more than a source of computer support. We serve as your strategic partner, collaborating with you to enhance the effectiveness of your company operations and your IT environment. Allow us to reframe your perception of computer technical help by offering you support that goes beyond straightforward problem-solving and instead opens up possibilities for development.
Technical Framework's Proactive Approach to Computer Support and Services: Preventive Maintenance
Our commitment to preventive maintenance is one of the guiding principles that distinguishes Technical Framework as a top provider of computer help in Fort Collins. In the field of information technology, we truly think that prevention is not only preferable to cure but also much more economical.
Beyond the conventional break-fix concept, preventive maintenance is used. Our preventative maintenance service takes a proactive stance as opposed to waiting for problems to occur. It is intended to anticipate and spot possible problems before they materialize and interfere with your operations. Due to our forward-thinking approach, we are able to protect the integrity of your IT systems and contribute to the efficient operation of your company as a whole.
Regular Checkups to Ensure System Health
Our preventive maintenance program includes routine system inspections. Similar to a typical physical examination, these IT health checks can spot potential issues that might not be immediately obvious. By keeping a regular inspection schedule, we guarantee the early detection of possible problems, enabling us to treat them proactively and prevent bigger concerns down the road.
Updates and patches for software
Updating your systems is a crucial component of our preventive maintenance service. To keep your IT environment secure and functional, you must apply patches and upgrades to your software frequently. These updates frequently include fixes for flaws and security holes that could be used by hackers. We give your company an extra layer of protection by making sure your software is updated regularly.
Hardware Maintenance and Monitoring
Technical Framework is aware of the importance of both the virtual and physical health of your hardware. We offer thorough hardware maintenance and monitoring as part of our preventative maintenance service to extend the life of your equipment and avoid buying expensive replacements.
Preventive Measures for Data Loss
Any organization could suffer irreparable harm from data loss. Our preventative maintenance plan includes using reliable data backup and recovery tools. Data loss can be prevented from becoming a catastrophic catastrophe with regular backups and the availability of a solid recovery strategy, protecting one of your company's most important assets: its data.
Performance Optimization
Our preventive maintenance service also focuses on preserving peak system performance. We can find possible bottlenecks and areas that need to be optimized by routinely evaluating system performance. This strategy guarantees that your IT infrastructure constantly performs at its peak level, enhancing the efficiency of your company.
Round-the-Clock System Monitoring
As a complete computer support company, we also offer 24/7 system monitoring as part of our preventive maintenance. Your IT systems will always be in good condition and functional thanks to our round-the-clock monitoring, which enables us to identify problems even after regular business hours and take appropriate action.
At Technical Framework, we focus on preventing issues before they arise rather than just resolving existing ones. This emphasis on preventive maintenance highlights our dedication to giving Fort Collins businesses the best possible computer support and computer help.
Go the proactive route. Select Technical Framework if you require computer support. We're here to make sure that no disruptive technical issues stop your company from running properly. Because at Technical Framework, we value preventative maintenance for an IT environment free of issues.
System Configuration: Personalized Computer Support to Fit Your Unique Business Needs
Delivering efficient and effective computer support begins with having a thorough understanding of the particular dynamics of your company. At Technical Framework, we are aware that every firm is unique and has its own unique set of operational procedures, corporate objectives, and IT needs. We provide customized system setup services to fulfill these various needs. These services are painstakingly created to match your IT infrastructure with your unique business objectives.
The First Step in Customized System Configuration is Understanding Your Business
Delivering customized system configuration services starts with getting to know your company. Our Fort Collins computer support specialists take the time to understand your company's nature, objectives, and particular difficulties. We can determine the best system configuration to streamline your IT operations thanks to this understanding.
The Science and Art of System Configuration
System setup is an art and a science that demands in-depth knowledge and tactical application. It is not just a technique. Our team of computer specialists at Technical Framework has polished this talent as a top provider of computer assistance, utilizing years of experience and technical know-how to create an IT environment that perfectly complements your company procedures.
Software Configuration
Our system setup services include software configuration as a crucial part. We carefully choose, install, and configure the best software products for your company based on your unique needs. These include software for customer relationship management (CRM), ERP systems, operating systems, and more. Our objective is to give you a productive software environment that supports your business strategy and increases productivity.
Hardware Configuration
Hardware configuration is a part of our system configuration service. This procedure includes configuring the actual servers, PCs, routers, and printers that make up your IT infrastructure so that they function well together. Our team of computer specialists has the skills and understanding to provide an effective and dependable hardware configuration, whether you need a single workstation setup or a network of devices.
Network Configuration
At Technical Framework, we are aware that a robust network is the foundation of a successful company. Our network configuration services are therefore created to give you a quick, secure, and trustworthy connection that supports your business operations. We set up and configure wireless networks, configure LANs, and provide VPN services for remote workers to make sure your network is reliable, secure, and suited to your individual requirements.
Security Configuration
In the current digital environment, security cannot be neglected. We put in place strict security controls as part of our system configuration service to safeguard your IT infrastructure. Among other security best practices, this entails setting up firewalls, configuring antivirus software, and imposing user access limits.
IT and Business Goal Alignment
Our system configuration service's primary goal is to match your IT resources with your company's goals. Our tailored system setup services are made to meet these objectives, whether you want to improve customer service, streamline procedures, or boost operational effectiveness.
By selecting Technical Framework as your Fort Collins computer support company, you're selecting a partner who appreciates the distinctive nature of your company and crafts IT solutions to address these particular demands. We're here to make sure that your IT systems advance rather than merely maintain your company.
Computer Troubleshooting: Your Go-To Solution for Fort Collins Computer Support
Even the most scrupulously maintained IT systems will occasionally experience problems. Quick resolution of these problems is essential to reducing downtime and preventing productivity loss. At Technical Framework, our team of knowledgeable computer specialists is always ready to promptly identify and fix any issues, guaranteeing that your business activities may resume as soon as possible.
Quick and Effective IT System Troubleshooting
Our skilled staff of computer experts in Fort Collins takes pride in its capacity to rapidly recognize and resolve a wide range of technological issues. Whether it's a tiny software fault or a more serious system breakdown, we can identify the core cause of a problem by utilizing cutting-edge diagnostic technologies and drawing on years of IT knowledge.
Professional Computer Support Services to Minimize Downtime
Our knowledgeable team of Fort Collins computer experts starts by putting effective remedies into place once the issue's root cause has been determined. We are committed to provide quick support services that reduce business downtime since we recognize how important it is to get your IT systems up and running as soon as possible.
Software Troubleshooting
Software problems can take on many different shapes, from troublesome upgrades to program crashes. We can effectively handle any software-related issue thanks to our computer professionals' extensive software understanding. We try to fix the issue, bring functionality back, and make sure your software runs without a hitch.
Hardware Troubleshooting
Hardware issues have the potential to seriously impair corporate operations. Our tech support specialists can quickly identify and fix hardware problems, whether they stem from a failing hard drive, a server that isn't performing properly, or a network device that is interfering with connectivity. Our goal is to increase the lifespan and performance of your gear so that your company can avoid needless replacement costs.
Network Troubleshooting by Expert Computer Technicians
Any business's ability to operate smoothly depends on its network. Our computer professionals can assist if you're having network problems, such as sluggish internet speeds or frequent disconnections. Our expertise in locating and fixing network issues will guarantee a reliable and secure connection for your company's activities.
Data Recovery Services
For enterprises, data loss can have serious consequences. We provide data recovery solutions as a part of our computer support services. We employ cutting-edge recovery methods to try and recover lost data, whether as a result of unintentional deletion or device failure, aiding in the prevention of substantial information loss.
Proactive Measures to Prevent Future Issues
Our computer professionals concentrate on preventive measures in addition to fixing the urgent technical issue. We can offer ways to avoid problems of a similar nature in the future by examining the problem and its root cause. This proactive strategy improves your IT systems' stability and dependability even further.
Your Partner in Computer Troubleshooting
The goal of Technical Framework is to go beyond providing services. Our mission is to become your go-to resource for computer support in Fort Collins. You may rely on us to offer quick, effective, and efficient computer troubleshooting services when technical issues emerge. We're here to make sure that your IT systems continue to support your company reliably rather than becoming a source of chaos. Discover the difference of Technical Framework today.
Prioritizing Your Business's Safety with Our Comprehensive Computer Support, Computer Security and Data Protection
Data protection and security are of utmost importance in today's digital environment. Businesses are constantly in danger from cyberthreats that could jeopardize their data and cause operational disruptions. Technical Framework is devoted to maintaining the security and integrity of your important business data in its capacity as your go-to source for computer help. We put in place strong, cutting-edge security measures that are intended to offer the highest level of protection and peace of mind.
Recognizing the Value of Data Security
We are aware of the enormous value your data has for your company. This information is the foundation of your business, whether it is financial information, client information, or internal documentation. A security lapse or data loss may have grave repercussions. Data security and protection are therefore major concerns for our Fort Collins computer assistance team.
Putting Strong Security Measures in Place
We take a comprehensive approach to data security. We put in place a range of strong, cutting-edge security measures adapted to the particular requirements of your company. Modern firewalls, anti-malware programs, and encryption tools are a few examples of these. These precautions offer a strong line of defense against numerous cyberthreats, such as hackers, malware, and other malicious actions.
Data Protection and Backup Solutions
Strong data backup solutions are essential for securing your company's data in addition to security measures. Regular data backups guarantee that your important information can be restored swiftly and effectively even in the case of a system failure or data loss incident. Our data backup solutions are made specifically for your company's requirements, adding an extra degree of security and enhancing business continuity.
Secure Network Configuration
A solid security plan is built on a secure network. Your network settings are configured by our IT support staff to improve security and lower the possibility of intrusion and data breaches. In this, properly configured firewalls, secure Wi-Fi connections, and VPNs for remote work are all included.
Regular System Updates and Patches
To keep your system secure, you must apply patches and upgrades frequently. These updates frequently include patches for flaws that online adversaries could use against you. Your systems are constantly kept up to date by our computer professionals, adding another line of security against any threats.
Employee Awareness and Training
Human error has the potential to damage even the strongest security measures. In order to inform your personnel about the most recent cyberthreats and best practices for data protection, we offer training and awareness programs.
Continuous Monitoring and Maintenance
Even when security precautions are put in place, we remain committed to protecting your data. We keep a close eye on your IT systems, looking for any possible security concerns and resolving them before they can do any damage. Your data will remain accurate thanks to our proactive approach.
Your Reliable Partner for Data Protection and Computer Security
Trust Technical Framework, your source for computer support in Fort Collins, with the security and preservation of your data. We are committed to providing extensive, cutting-edge security measures to protect your sensitive company data. Experience the peace of mind that comes from knowing that your company's data is safe and secure by partnering with us. Our top focus is your security, and we're committed to keeping your company secure online.
Your IT infrastructure is not only maintained but also optimized for peak performance and long-term success thanks to our in-depth experience and technological know-how.
Why Choose Technical Framework as Your Fort Collins Computer Support and Services Provider?
The correct computer support partner may make a world of difference for your organization in the constantly changing digital market. Technical Framework excels in this significant position as a top provider of IT Managed Services in Fort Collins. We don't regard ourselves as just another technical support provider; rather, we view ourselves as strategic friends of your organization, fully committed to ensuring the effective, seamless running of your IT systems.
Strategic Partnership
Our strategy at Technical Framework goes beyond resolving urgent IT problems. We are dedicated to knowing your specific business requirements as your strategic partners and adjusting your IT infrastructure accordingly. We're here to do more than simply provide assistance for your IT systems; we're here to improve them by scaling them up for maximum performance.
Expertise and Experience
Our computer specialists have years of experience in computer support and are skilled at identifying and resolving a variety of IT problems. We keep up with the most recent developments in technology and use this knowledge to manage, upgrade, and secure your IT systems. Our knowledge enables us to offer quick, efficient solutions, reducing downtime and increasing production.
Tailored Solutions
We are cognizant of the distinctive IT needs that each organization has. As a result, we provide specialized assistance options that are created to meet your unique demands and organizational objectives. We make sure that your IT systems serve as a dependable foundation for your business operations, from system configuration to security measures.
Commitment to Excellence
The dedication to perfection at Technical Framework distinguishes us as a top source of Fort Collins computer support. In order to provide the best degree of client satisfaction, we always search out new methods to improve our services.
By selecting Technical Framework as your computer support partner, you can put your IT systems in the hands of a group of computer specialists who share your passion for success. Let us assist your company in utilizing technology to the fullest extent while giving you peace of mind that your IT infrastructure is in competent hands.
The Benefits of Choosing Technical Framework as Your Fort Collins Computer IT Support Company
It's crucial to choose a partner who brings knowledge, comprehension, dependability, and dedication to the table when you weigh your alternatives for computer help in Fort Collins. What distinguishes Technical Framework is this:
Extensive Industry Expertise
The aggregate knowledge of our seasoned professionals is what makes our service strong. With decades of combined experience in computer IT support and administration, our team of computer specialists has a comprehensive understanding of the industry. We are able to quickly and expertly handle even the most challenging technological problems thanks to our experience. We provide top-notch computer assistance to make sure your IT systems are consistently operating at their peak performance.
Customer-Centered Approach
We at Technical Framework are firm believers in the value of individualized approaches. Instead of adopting a one-size-fits-all strategy, we take the time to comprehend your particular business needs. This knowledge informs the customization of our offerings, ensuring that our IT solutions precisely match your company's objectives. Our goal is to provide help that is both effective and efficient, going above and beyond to satisfy your needs.
Consistent Reliability
Your company requires a computer support provider that is constantly available. With Technical Framework, you can operate with as little disruption to your business as possible knowing that we are ready to tackle any potential IT issues. We work hard to earn your trust as a partner by providing dependable service when you need it most.
Dedicated Passion
Our service is driven by a sincere passion for what we do. This zeal motivates us to continually provide high-quality service. Your pleasure is our ultimate barometer of success, and we cherish each and every one of our customers as partners. We are committed to assisting your company's expansion and prosperity in addition to managing your IT requirements.
Select Technical Framework as your Fort Collins computer support company to see the difference our knowledge, individualized approach, dependability, and dedication can make to your company.
Start Now with the Best Computer Support and Services Available
It can be difficult to navigate the world of IT challenges, but you're not alone. You may give your company the technical edge it needs to succeed in today's fiercely competitive digital economy by utilizing our extensive experience and top-notch computer assistance.
Technical Framework's computer specialists are prepared to assist you in managing your infrastructure, reducing IT risks, and realizing the full potential of your technological investments. We are available to you whether you have a minor technical issue or need a complete overhaul of your IT infrastructure.
When you choose us, you're selecting a strategic partner committed to the IT health and overall success of your company, not just a service provider.
Experience the comfort and increased operational effectiveness that comes from knowing that the best professionals in Fort Collins computer support are taking care of your IT needs. The best IT support is only a phone call away. Select Technical Framework as your go-to resource for computer support in Fort Collins.
Technical Framework: Providing top-notch computer support and services to businesses.
Feel the difference of the Technical Framework. Contact us right now.