… secure my email and prevent phishing attacks.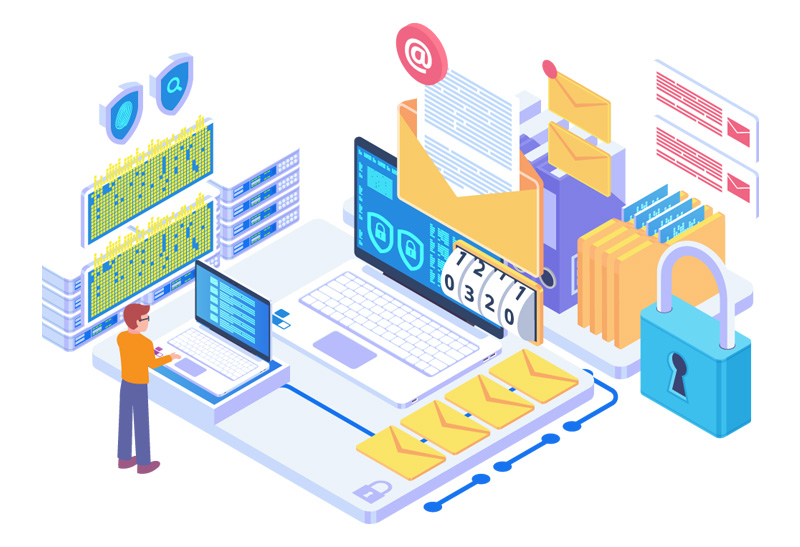 Emails carrying phishing links or malicious attachments that target businesses and organizations are responsible for over 90 percent of data breaches today. Research also shows that 88 percent of organizations said they experienced spear-phishing attacks in 2019 with 86 percent reporting that they were victims of business email compromise (BEC) attacks.
Protecting users against email phishing attacks and malware involves properly configuring email systems to filter out and quarantine suspicious or malicious messages and attachments. For many cloud-based email systems, this includes correctly configuring advanced threat protection and security settings.
Email protection configuration options include choosing actions such as moving suspicious email and content to spam folders or leaving it in inboxes with user warnings. Email security settings can be tailored for different users and teams or based on data protection priority.
Advanced email security settings from major email service solution providers include protection against suspicious or malicious encrypted attachments and scripts from untrusted or unknown senders. Advanced email systems can also inspect attachment types that could be used to spread malware such as executable files, PDFs or unknown file types.
Some email solution providers offer Advanced Threat Protection that leverages trillions of threat intelligence signals while continuously analyzing billions of emails to identify and filter out malicious emails and attachments.
Email protection systems also analyze incoming links and external images behind URLs for malicious content, and present users with warning messages on links from untrusted domains. To protect against domain name spoofing, false employee email names, email domain impersonation scams or unauthenticated email from any domain, email spoofing protection options in many email systems can be configured for private groups or entire organizations. Unauthenticated emails display a question mark next to the sender's name or quarantine emails in a separate folder for inspection.
Security Benefits of Email Protection Services
The benefits of email protection services range from protecting organizations against sophisticated threats to automatic investigation and attack remediation. Most major cloud-based email providers provide analytics and insights for threat identification and provide recommendations against email attacks so that organizations can proactively secure and tune their email systems.
Additional email protection benefits include advanced automated response options with security tools including email defense playbooks and investigation graphs that help email administrators address and remedy attacks quickly to save time, increase productivity and reduce costs.
Email protection services also help train users to recognize suspicious emails and report attacks. This builds user awareness against email attacks and helps them to understand not to click on unknown links and report suspicious content.
Technical Framework Email Protection Services
Email Protection Services are essential to minimize cyber-incident damage, downtime, and organizational losses against attacks such as email phishing campaigns or malware attacks. Technical Framework offers comprehensive email protection services that include email implementation and configuration against advanced cyber-attacks to keep sensitive information secure against unauthorized access, loss, and compromise. Technical Framework also implements and maintains email protection best practices to help clients ensure their IT security, productivity, and regulatory compliance.