Dental IT Services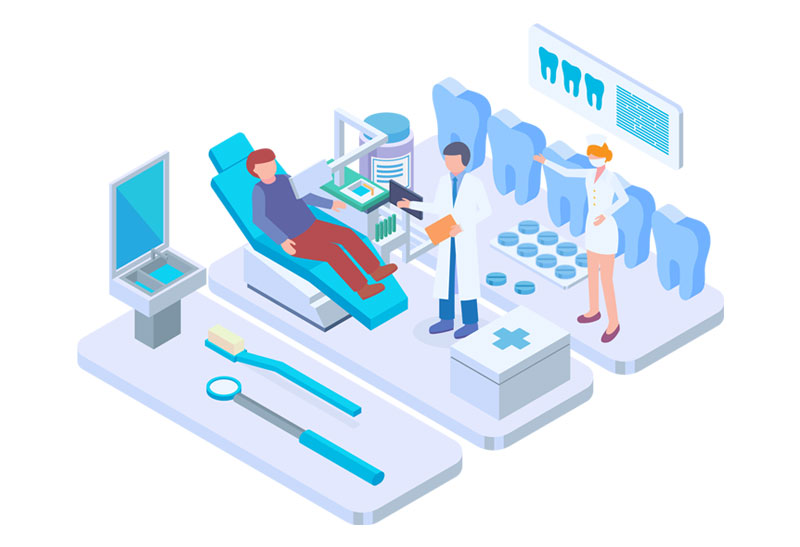 Dental IT Services
Dental practices must protect themselves from cybersecurity threats due to heavy dependence on electronic data in the cloud. Each time a computer or application accesses the internet, a door is opened for malware or hackers to exploit. Therefore, dental practices must employ robust, multi-layered cybersecurity by an experienced dental IT services company. Data breaches not only cause business disruption but can also result in HIPAA violations.
HIPAA Compliance for Dental Practices
Our approach to HIPAA compliance is systematic. Our award-winning network scanning system detects and reports HIPAA vulnerabilities, according to criticality. You, the client, can decide the priority of vulnerabilities to mitigate based on budget. The Department of Health and Human Services recommends an annual HIPAA compliance scan, ideally by an experienced dental IT support team, as a means of protecting your practice and patient health information.
Dental Office Hardware Services
Dental practices utilize a relatively wide array of hardware, including servers, tablets, desktops, laptops, not only for staff use but also to control X-ray machines, RVG detectors, intraoral cameras, and more. Technical Framework's early problem detection systems, in Dental IT support realm, monitor and report the health of computer systems so that we can resolve problems before they grow to be costly.
Dental Applications
Technical Framework will serve as a dental IT support liaison for your practice's applications such as billing, client care, imaging, and general office. Our engineers can both administer and facilitate support when and where needed, so you enjoy a single point of contact for all your IT needs. You can leave the technology to us and focus on your practice.
Data Storage for Dental Practices
Whether stored on-premises or in the cloud, your data must be secured, kept private, and backed up adequately. All too often, dental practices install backup software without performing routine maintenance checks, only to find weeks and months later that backups have not been executing correctly. Not only do backup systems require monitoring by an experienced IT services team, but mock restores of sample data are necessary to test the validity of backup archives.
IT Helpdesk for Dental Practices
If your workers are unproductive, patient satisfaction will suffer. Technical Framework's dental IT services helpdesk team includes a service coordinator and multiple IT experts ready to take your call and help remotely or onsite, depending on the issue. We use an award-winning help request system and have an on-call technician for after-hours emergencies. Each time a technician updates the request ticket, you'll receive an email on tasks performed and the status of the issue until resolution. Our team references past tickets as a means of resolving new problems quickly and efficiently so your workers can maximize their productivity.
Network Optimization for Dental Practices
Storting and retrieving images requires a relatively high level of network bandwidth. Network optimization is the process of ensuring that data can flow at the necessary speeds to facilitate applications for all users. Lack of adequate bandwidth, whether due to poor cabling, under-provisioned telecom lines, malfunctioning switches, or a misconfigured firewall, can impede patient services and cause frustration for both clients and staff members. This is yet another reason to engage only qualified dental IT services teams such as Technical Framework.