Mobile Device Security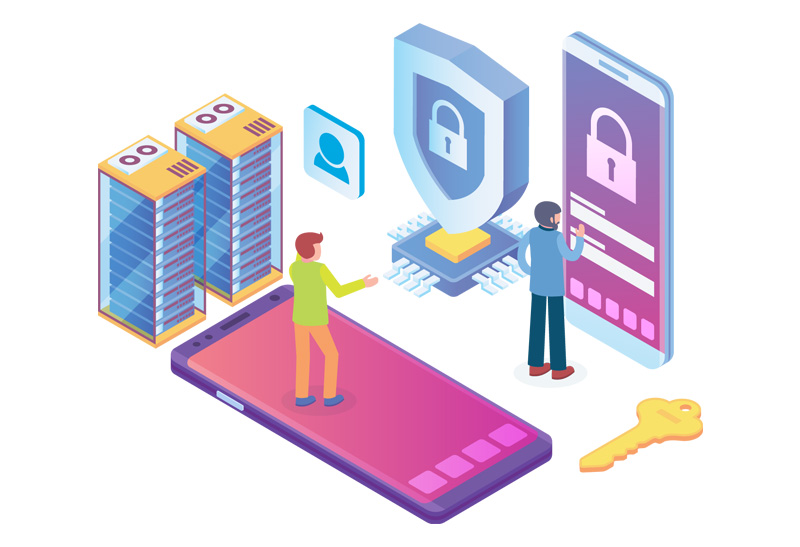 Mobile devices represent a major cybersecurity risk for not only individuals but also organizations, especially when considering "bring your own device" (BYOD) scenarios where attackers can access unprotected personal devices that have access to corporate or organizational network resources and data. Individuals that require remote access from mobile personal computers to organizational networks, data and network resources also pose a security risk from unsecured connections or improperly configured virtual private networks (VPNs).
According to Verizon, 86 percent of enterprises have seen an uptick in the number of mobile breach attempts in 2019 with Financial Services, Professional Services, and Education representing industries most at risk of being attacked.
To mitigate mobile service security risks, organizations must implement Mobile Device Management (MDM) processes that enable IT administrators to control, secure and enforce policies on smartphones, tablets, and organizational endpoints. The practice of MDM protects mobile assets and BYOD devices against cyberthreats while securing organizational network resources and data.
Mobile Device Management (MDM) Practices
Organizations can secure their mobile devices, data and IT assets using a variety of security practices to protect endpoints that all fall under the practice of Mobile Device Management and include the following solutions.
Endpoint Security enables organizations to secure remote and mobile workers by monitoring mobile devices for malware and anomalous processes that have access to network resources.
Secure Web Gateways (SWG) provide mobile device security by providing a barrier or firewall between mobile and remote workers and malicious websites, malware, and suspicious web traffic. They come in the form of software, hardware or virtual appliances and exist either at a network perimeter in a datacenter, or in the cloud.
A Cloud Access Security Broker (CASB) acts as a secure gateway between on-premises resources and cloud applications such as Salesforce or Microsoft 365. CASBs identify malicious cloud-based applications and can protect mobile users against breaches with a data loss prevention (DLP) engine hosted in the cloud.
Email Security with advanced threat protection that detects and blocks malware and phishing attacks while providing end-to-end encryption is also a critical solution for mobile device security.
Mobile security best practices also include establishing BYOD security policies and establishing specific network user access to resources for mobile and remote workers. This includes data and mobile application install restrictions, regular device operating system update requirements, and proving training to ensure users know how to report suspicious activities or threats on their mobile devices.
Organizations may also want to adopt a Zero Trust security policy that requires identity verification and access management policies for every person and mobile device requesting resources on a network, regardless of location. Zero Trust policies include setting strong password policies, two-factor authentication or multi-factor authentication, third-party access policies, and privileged access management policies (PAM) for mobile users and devices.
Technical Framework Mobile Device Security Services
Technical Framework offers mobile device security and Mobile Device Management implementation services that include device deployment, network security architecture and design, and device update and management services. Also, Technical Framework implements and maintains mobile device attack response and remediation best practices to help clients ensure their IT security, governance, and regulatory compliance.