Firewall Management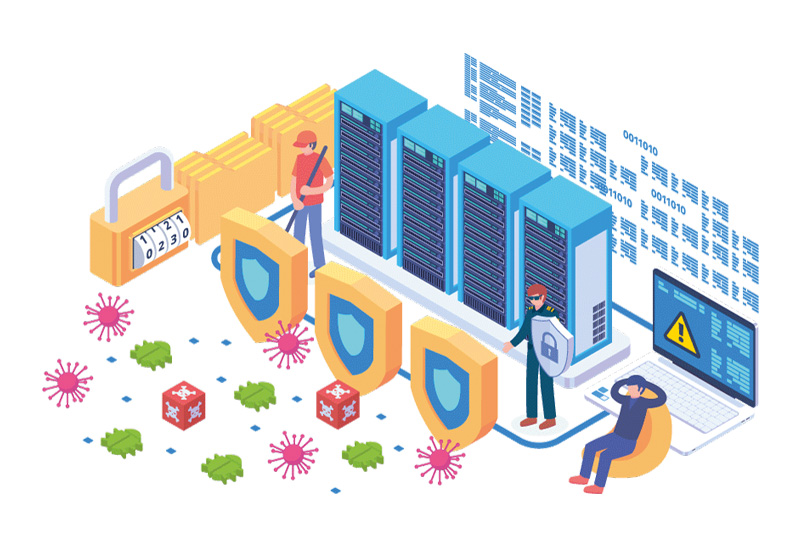 Network firewalls, the first line of cyber security defense, continuously monitor incoming and outgoing internet traffic and establish a barrier between private internal networks, external untrusted networks and internet traffic.
By blocking or allowing internet traffic into a private network using policy-based security rules, firewalls protect businesses against cyber threats including malware, spyware, ransomware, viruses, phishing attacks, data breaches and intrusion attempts. A network security firewall can be deployed as a hardware or software appliance on-premises at a company office, in a datacenter or co-location facility or in the cloud.
Over the past three years, small and medium businesses (SMBs) have experienced a major increase in cyber crimes ranging from data breaches and phishing attempts to malware and web-based attacks, according to the "2019 Global State of Cybersecurity in Small and Medium-Sized Businesses" Ponemon Institute report. 1The financial impact of cyber attacks on SMBs can be severe with the average cost of business disruption from damage or theft of IT assets and resources increasing to almost $2 million, on average.
As the cyber threat landscape of today evolves to include mobile devices, the internet of things (IoT) and IT resources in the cloud, deploying a network firewall must be considered a critical component of any small or medium business cyber security strategy.
Network Security
Network security firewall types vary in both cost and complexity and include hardware or software-based proxy firewalls, stateful inspection firewalls, unified threat management (UTM) firewalls, next-generation firewalls (NGFW), and threat-focused next-generation firewalls. Firewalls can also be used to host secure remote and mobile worker access connections to a company's private network.
A Firewall Management Service can help reduce the complexity and risk of running and managing a firewall by leveraging the expertise of third-party IT security professionals to ensure small and medium business online security and regulatory compliance.
With 24/7 management and monitoring, a firewall management service provider runs either a hardware or software-based firewall, monitors incoming internet traffic for advanced threats and provides log and security event analytics for operational protection of IT resources.
Additional managed firewall service features include custom configuration and security policy support, implementation support such as device provisioning and network integration and ongoing device management. Managed firewall analytics encompass real-time device and network health monitoring, security event monitoring with incident response alerting, firewall activity reports and log file analysis.
The benefits of a managed firewall service include cost reduction as hardware and maintenance costs are combined into a monthly charge thereby eliminating a company's need to buy expensive equipment and deploy IT staff for device management and network integration. Firewall resources can be scaled to meet any growing business needs while meeting PCI, HIPAA, GBLA, FISMA regulatory compliance.
Finally, firewall management service providers also understand the cyber-threat landscape and deploy the latest market-leading firewall hardware and software technologies and features to protect businesses against the latest cyberattack methodologies.
Technical Framework Firewall Management Service
Technical Framework offers a full-featured firewall management service that includes firewall deployment, management, monitoring, reporting and analytics. Technical Framework also provides Infrastructure as a Service (IaaS) plans that provide firewall hardware, network integration, policy configuration and support on a monthly fee basis. Using the latest firewall technologies from major hardware and software providers, Technical Framework implements and maintains best-in-class firewall appliances that make up the cornerstone of every smart cyber security strategy.